Welcome to a great week!
RISE Youth of the Week is Boniface Mwangi from Kenya. Boniface (born July 10, 1983) is an award-winning Kenyan photojournalist making a name for his social-political activism under the banner, Kenya Ni Kwetu (Kenya is our Home). The Nairobi-based lobby strives to enable a patriotic citizens' movement to take bold and effective actions in building a new Kenya. He is popular for his stunning images on the post-election violence that hit Kenya in 2007–2008. He is also the founder of Picha Mtaani, a youth-led peace initiative that primarily seeks to create space for young people to reconcile and become agents of reconciliation to their respective communities.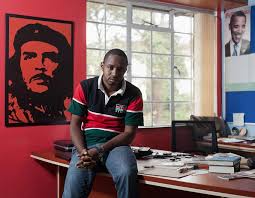 Mwangi was born in Taveta, on the Kenya-Tanzania border. His mother was a businesswoman who traded across the border. Mwangi was moved to live with his grandparents home in Nyeri, Central Kenya, when he was six years old. He would encounter linguistic challenges, having mastered Kiswahili at birth – the country's national language that's widely spoken across East and Central Africa – although Gikuyu is the language most spoken in Central Kenya.
Mwangi later moved with his mother to live in Nairobi's low-income suburb of Ngara, then Highrise in Majengo, Githurai 45, before finally settling in Pangani. Mwangi dropped in and out of school during this period and helped his mother vend books to raise money for basic needs.
When his mother died in 2000, Mwangi, then 17, reviewed his life and decided he had to change his ways if he was to survive the vicissitudes of life. He joined a Bible school and secured a diploma in Bible Studies. It was while at the school that he would discover he had an interest in photography. Originally hawking the streets of Nairobi with books and putting himself through [[Bible school]] to become a pastor, he discovered a different passion at the age of 20: photography.
One of his teachers, having noticed Mwangi's interest in photography, gave him two texts that would alter the direction of his life. These were the biographies of Mohamed Amin, the Kenyan photographer hailed as one of the greatest photojournalists of the 20th century. While Boniface had no high school education as he had left school at the age of 15, he managed to convince a director of a private Journalism school to let him attend. To put himself through this school he still had to sell books on the street, but not far into his education he started to gain experience as a photo journalist. He managed to publish photos in one of the main newspapers of the country, the Standard, and won in 2005 his first photography prizes as recognition for his work.
From there on his photography career took off, and within three years he won widespread international acclaim as one of Africa's most promising photographers. Boniface was awarded the 2008 and 2010 CNN Africa Photojournalist of the Year Award. However, he has put his personal career as flourishing and internationally successful photographer on hold, to work on what he wants most in his country: social justice, and in particular peaceful elections and political leadership that are able to lead the country impartial from ethnic and tribal lines, according to democratic principles and with only one objective, prosperity and development for all Kenyans.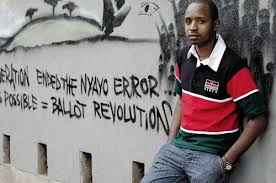 He made his decision to quit active journalism, after witnessing and documenting post-election violence in Kenya in 2007 as a photographer for one of the main leading newspapers. The experience led him to experience severe post-traumatic stress and depression (and he was also directly affected having to move temporarily after people of his community were being threatened). More importantly, he was frustrated he had to cover the same politicians that had incited the violence, but remained unpunished.
His first initiative was based on his personal strength: Project Picha Mtaani, Swahili for street exhibition, showing the pictures of the violence that happened in 2007 after the national elections, between the different tribes. This travelling street exhibition was shown around the country for people to discuss reconciliation and promote national healing. Over 600.000 people have seen the exhibition by now. This was later on complimented by a documentary called Heal the Nation, which is being shown mostly in slum areas. Following these initiatives Boniface started to develop a stronger human rights stance in his work on fighting (political and corporate) impunity, speaking out against bad and corrupt political leadership and promoting a message of peace for the elections planned for 2013 with initiatives called MaVulture and Kenya ni Kwetu, for which he has gained a large support base. His latest initiative is Pawa 254, a hub he has (largely) funded himself, and space for artists and activist to work together towards social change and advancing human rights in Kenyan society.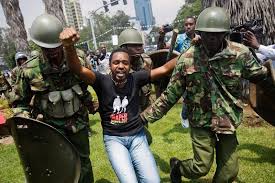 He is married to Hellen Njeri Mwangi, who supports everything he does in terms of his work. She works for free for each of his initiatives and is the mother of their three young children (Simphiwe, Sifa, and Mboya). They truly work as a team to keep both their work on promoting peace and good leadership, as raising their children to the best of their ability and creating an opportunity for them to live in a future country which is socially just and free of ethnic divides and impunity by leadership.
You can contact Boniface on Twitter via: @bonifacemwangi
---
Who will be the next Youth Of The Week?
You can be the next RISE Networks' Youth of the Week! All you have to do is get a friend to recommend your work or send your profile and accomplishments to us via email: rise@risenetworks.org. We want to use this platform to recognize and celebrate the efforts of amazing young people around the world.